Vital Balance Health Care
How To Drop High Cholesterol

If you have high cholesterol, and want to avoid side effects of conventional cholesterol reducing medications (statins), we have good news for you.  You can reduce your elevated cholesterol naturally with acupuncture, Chinese herbal medicine and food therapy. 

Cholesterol Basics
Cholesterol is a type of waxy lipid (fat).  We need some cholesterol in our blood and in the cell membrane of every cell of the body.  We also need cholesterol to make "vitamin" D and all of the steroid hormones, including cortisol, testosterone, estrogen, and progesterone.
Conventional Drugs
Conventional medicine uses drugs, primarily statins, to reduce high cholesterol.  While these drugs are effective, they work by suppressing liver functions and so carry a risk of liver injury.  In addition the FDA states that statins may have other risks:
Cognitive (brain-related) impairment, such as memory loss, forgetfulness and confusion, has been reported by some statin users.
People being treated with statins may have an increased risk of raised blood sugar levels and the development of Type 2 diabetes.
Some medications interact with lovastatin (brand names include Mevacor) and can increase the risk of muscle damage.

Chinese Medicine For Blood Cholesterol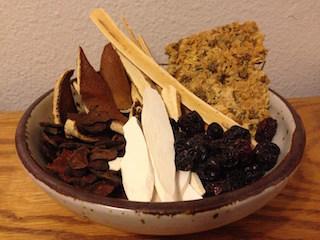 Chinese medicine addresses high cholesterol through acupuncture, herbal medicine, food therapy, and stress reduction.

Acupuncture provides stress relief.  It is very important to get stress relief because when you are stressed you are more likely to make poor food choices and because the stress itself may cause the body to raise cholesterol levels.

In our clinic we also use prepared Chinese herbal medicines to drop high cholesterol.  The formulas we use include herbs that have been proven to lower total cholesterol and triglycerides. 

---