TCM for Menopause Syndrome

Relieves Sleep Disorders and Raises Estrogen

Choosing TCM for menopause changes can help women dealing with menopause-related sleep disturbances and low estrogen levels, according to research published in the journal Obstetrics and Gynecology (Obstet Gynecol. 2016;127:507-515).

The authors of the study reviewed 34 randomized controlled trials published in English and Chinese. These included 2433 randomly assigned subjects, most of them women in China, with a mean age of 51 (ranging from 44 - 63 years). Four of the trials concentrated on women with breast cancer. The trials used the women's reports of sleep quality to measure the benefit of treatments.

Acupuncture for Menopause Relief

Women who received TCM acupuncture for menopause were almost 80% less likely to have sleep disturbances compared to women who did not. Additionally, women who received acupuncture experienced significant increases in blood levels of estrogen. Increases in estrogen levels were significantly larger in studies in which women received acupuncture at the Sanyinjiao acupoint.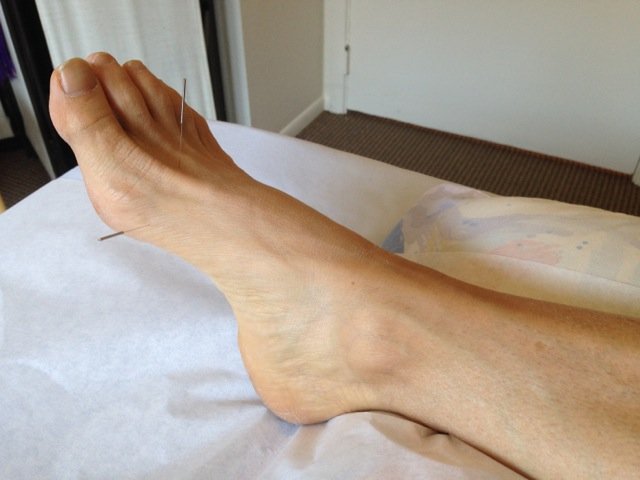 In conclusion the authors recommended that acupuncture should be adopted as an alternative or complementary therapy for improving sleep in women experiencing menopause-related sleep disturbances. They added that women "who are interested in adopting acupuncture therapy as an alternative therapy to conventional treatments for improving menopause-related sleep disturbances should talk to their acupuncturists about the Sanyinjiao acupoint as the preferred acupoint to stimulate the secretion of serum estradiol levels."

Sanyinjiao Point for Women's Health

Other research has shown that stimulation of the point Sanyinjiao (translated "3 Yin Crossing"), also known as Spleen 6, promotes womens' general health. This point regulates hormone levels and improves menstrual function.

Plant-based Diet Reduces Menopausal Syndrome
In addition to using Chinese herbs and acupuncture, eating a whole foods plant-based diet can make menopause more manageable.  In fact, dietary therapy is more important for the long term.  The PCRM notes that studies show that women who consume diets rich in high-fat foods and animal-source foods have more severe menopausal discomfort than women eating traditional whole foods plant-based diets.  
Whole grains, legumes, seeds and nuts provide natural phytonutrients that support the reproductive system through all phases of life.  According to TCM, these seed foods support the Kidney Yin, decline of which contributes to hot flashes and night sweating, among other menopausal syndrome symptoms. 
Natural Menopause Relief

Using acupuncture to manage your menopause stimulates your body to produce and regulate its own estrogen and other hormones. Herbal medicine can achieve the same results. There are many whole plant foods that also provide phytonutrients that help your body achieve a better hormonal status. These therapies and diet changes can reduce or eliminate the need for risky medications and hormone therapy to manage menopause symptoms. If you would like to get relief from menopause symptoms without taking drugs, acupuncture, herbal medicine and diet therapy offer viable alternatives proven by scientific research.

Sources
1.  Chiu, Hsiao-Yean, et al. Acupuncture to Reduce Sleep Disturbances in Perimenopausal and Postmenopausal Women: A Systematic Review and Meta-analysis. Obstet Gynecol. 2016;127:507-515
2.  Kashefi F, Khajehei M, Ashraf AR, Jafari P. The Efficacy of Acupressure at the Sanyinjiao Point in the Improvement of Women's General Health. Journal of Alternative and Complementary Medicine. 2011;17(12):1141-1147. doi:10.1089/acm.2010.0589.
Return from Acupuncture for Menopause to Conditions Treated By Acupuncture and Oriental Medicine

---